The Arise Centre
The site in Lower Hutt is part of the former NZ Rail yards prominently located alongside the motorway and adjacent to the Park and Ride carpark.  Due to contamination the groundwork required some careful management, and the design went through a number of iterations and physical locations on the site prior to the final siting being determined. 
 
The brief for the Arise Centre was to provide a landmark building that was prominent and recognisable, on a former NZ Rail yards site alongside the Motorway in Lower Hutt. The Church's offices which were spread over several sites in Wellington would be rehoused in the building and it would fill a gap in the vicinity for a conference venue with a good performance space.  The auditorium itself was to seat over 1200 people, and had to be flexible with the option for it to be converted simply to a more intimate space.  
The design had to meet some acoustic challenges both internally between spaces and to the exterior.  The challenge of building a performance space next to a motorway was not to be underestimated, and it was decided to wrap the offices and foyer around the building providing as much buffer as possible to the auditorium.  We wanted to articulate the act of wrapping with the facade of the building, and so emphasised it with the vertical glazing mullions.  This was further reinforced with the use of colour and translucent glass to give the impression that the facades drape the building almost like fabric.  
Inside the spaces are gently coloured by the yellow glazing, and this colour has been taken through the interior, reappearing in doors, and further integrating the facade with the space within.  The colour itself bridges the office zone and its movement through the spaces provides a tangible link to the outside.  Only the auditorium remains untouched as a black box sheltered behind.
 
The detailing of the building is clean and quiet.  The material palette is simple and honest, and the careful attention the contractors paid to accurate finishing extends as far as the mechanical ducting.  The overall effect is of a simple building form which provides an uplifting backdrop to the various functions it houses. Mostly though, the strength of the project is in the natural light and beauty of its interior space.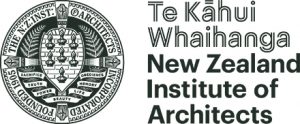 Recipient of NZIA award 
Client
Lower Hutt, Wellington