Three Line Studio is a Wellington architecture practice, located on the waterfront in the historic Shed 21 building.  Directors Denis Chin and Amanda Bulman met while attending Auckland University Architecture School in the 1990s and the practice was founded in 2001.
Following graduation Amanda completed a Master of Architecture degree in the USA prior to working and becoming a Registered Architect in England.  Her foundations in academic work have developed her research based approach to design, and particular understanding of how design contributes to our environment across scales from detail to urban.
After graduation and travel, Denis returned to New Zealand and became a Registered Architect.  He has built his knowledge of the technical aspects of architecture through training in weather-tightness building surveying, and more recently has become a Certified Passive House Designer.  He has a strong understanding of the performance of the thermal envelope, guiding both low energy and full passive projects through to successful completion.
We are a small(ish) practice with wide horizons
As a team of seven we work collaboratively in an open studio environment where discussion and critical thinking are valued.  We have high client engagement, sharing ideas and testing design possibilities through the project process.
We are committed to understanding the impacts of our work 
Predominantly our work lies in two broad categories – residential and community.  This is a product of valuing the fabric of our cities and being committed to improving the environment in which we live, both on the individual scale and the communal scale.  This improvement is considered in terms of material use, building performance, and contribution to the city fabric.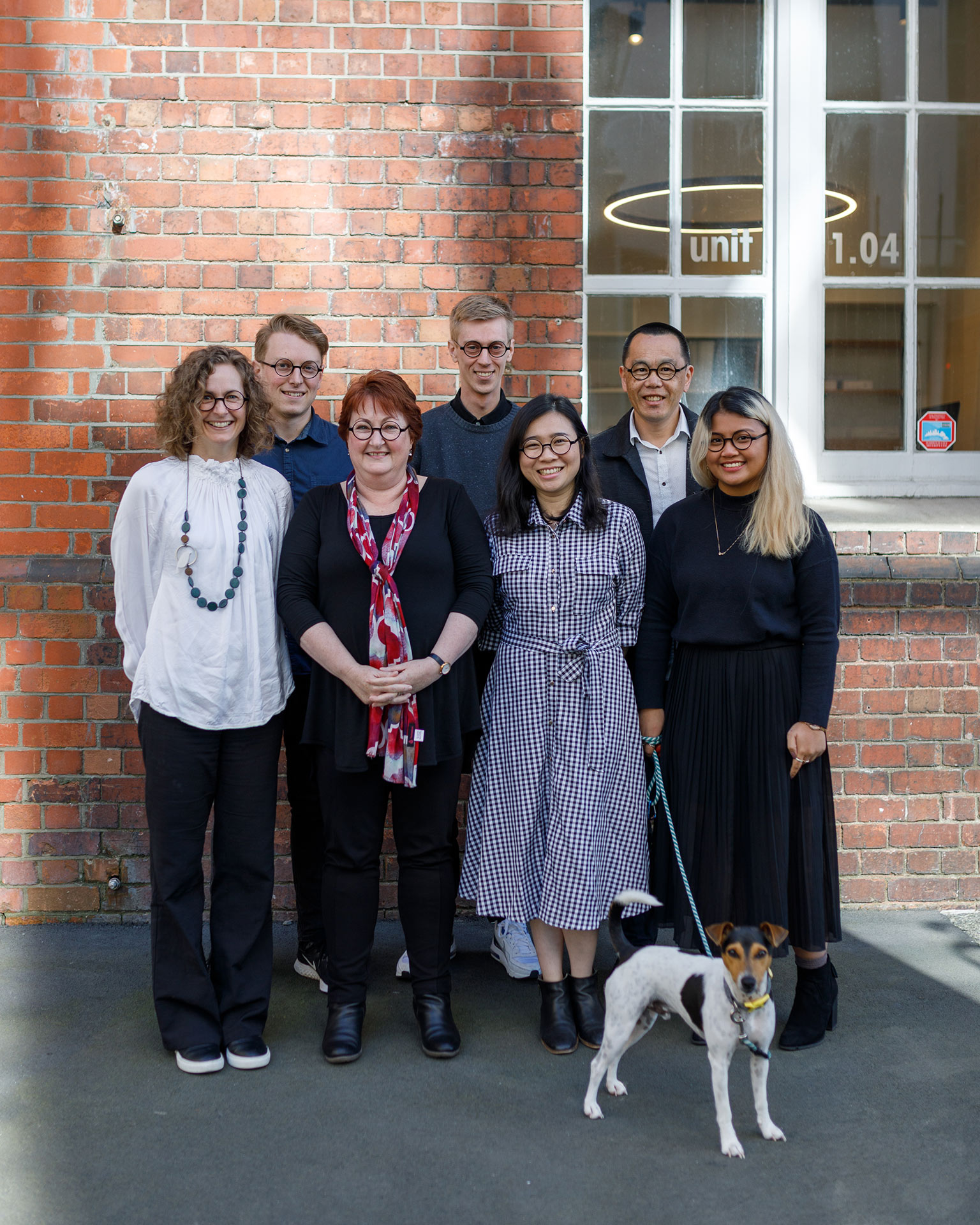 Why three lines . . . 
Three lines are required to define three dimensions – this is where we work.  We are predominantly interested in the composition of carefully proportioned volumes, as this leads to interesting internal planning, and better relationships between our architecture and its environment.  It also provides moments of surprise and delight, through the creation of beautiful spaces.
Studio is a place where work is done, ideas tested, and creativity encouraged.
House alteration work allows us to remedy the shortcomings of the existing New Zealand housing stock.  This has both technical performance and critical design possibilities.  It allows a hopeful regeneration of housing for contemporary life, and makes use of the resources that exist in our city fabric, upgrading them to provide warm, healthy, surprising homes into the future.
New residential work allows us to form the potential of sites into carefully arranged volumetric responses satisfying the aspirations of our clients.  While we work primarily with space, new work offers the chance to celebrate the technical performance possibilities of low energy and passive house technologies.  Houses that have a lower lifetime impact on our planet should be a requirement of every new build project that is completed.
Community work is fundamental to the values of our practice.  We provide community groups with robust solutions to their needs through a collaborative design process, allowing them to thrive in a way that is supported and enabled by their buildings.  This work is rewarding because of the strength it brings to communities through a design process that provides opportunity for values to be made manifest.  This work often has a major positive impact on the urban fabric in which we live.