Tatau Kōwhai
yellow door
A meeting house for family – a middle ground where whānau from the all over the motu can meet and stay together. A house with many beds and a big kitchen, a back lawn for games and a games room for cards.
This house is a 'bach', with space. Good quality, unfussy, raw materials form the finished surfaces. Rather than being polished and buffed by construction processes, they are lightly touched. The house forms a quiet backdrop for time spent together as a family, and the tatau kōwhai is the outward sign of the inner warmth of this house.
     
The sleeping arrangements are flexible. There is a bunk room and a series of sleeping platforms with mattress storage under. The beds can be arranged in different combinations for different family groups, with sliding panel walls reconfiguring the private and shared space within the whare.
An extendable dining table slides open similarly to accommodate extended whānau.
Inside the yellow door a wall of coat hooks invites you to take off your coat and space below offers a place for your shoes, while the heated concrete floor leads you into the heart of the house.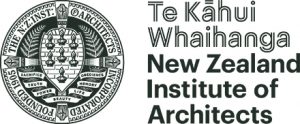 Shortlisted for NZIA award