Crow's Nest House
noun
unpunctuated: crows nest
a shelter or platform fixed at the masthead of a vessel as a place for a lookout to stand.
A little pocket of Miramar was presented as the site for this project. Inhabiting it was a small, dark brick bungalow. Being single level it didn't make the most of the views across Miramar to the cutting that the site afforded higher up, nor the Western sun that warmed the bank above it.
Delivered from Melbourne via Skype the brief was for a compact house which embraced the sun, and provided great space for cats and family gatherings alike. After scaling the steps to the rear of the site, we decided that the house needed a crow's nest. An elevated snug space to look out from.
The house was arranged along the rear of the site, predominantly over two floors with the crows nest located to the northern end. The interior was extended to form an elevated outdoor room which increased significantly the living space of the house. The house was clothed in timber, which then wrapped the interior of the external room, and reappeared in the detailing within. A simple form, nestled against the hill, leaving maximum lawn facing the street.
Presided over by the crows nest.
Photography by André Vroon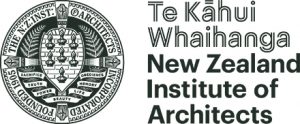 Shortlisted for NZIA award 
Client
Mirimar, Wellington