Black + White House
colour
In a black and white photograph or film, everything is shown in black, white, and grey.
be in black and white
You say that something is in black and white when it has been written or printed, and not just said
The black and white house sits in a green landscape. It is a rural house and has developed from the existing occupation of the site. Prior to the house being designed, the stables and garaging were already built. This is a farm house of a sort, atop a river terrace, and the outbuildings came first – they were there in black and white.
The house volumes are defined by light. The exterior is predominantly dark, with the windows and roof traced in white. The house finishes an entry courtyard formed by existing garaging and the stabling, and when a visitor enters the courtyard they are already within the space defined by the house. Differing from the entry to an urban project where the delineation of entry may happen at the front door, this configuration recognises that the transition of the rural driveway is a part of the entry. The house is very transparent to this interior arrival space – the forecourt is an extension of the house, and forms a space of welcome.
Inside another layering of white and black awaits – this time the walls are white and the furnishings are black, just as the dark exterior walls of the house furnish the site, the dark furniture occupies the light volumes of the house, defining the spaces. The vertical slices that extend the lower level volumes upward are surprising, admitting slices of light to the interior of the house. They also ensure the first and ground floors of the house bind together, overlapping to offer unexpected connections.
The exterior of the L form is comprised of smaller windows, views out are carefully framed and the house presents a strong shell to these edges, it is the court space where the interior unfolds.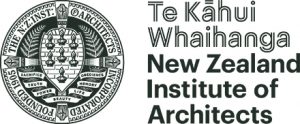 Recipient of NZIA award 
Client
Upper Hutt, Wellington