Pool House
The site for this project was elevated with views across to Porirua Harbour. The brief for the house started with a pool. Around the pool the house would wrap providing a retreat from the busy-ness of city life.
With the views in Wellington comes the wind. The house needed to provide some relief from the often relentless North Wester. To this end the creation of a sheltered courtyard space became the balance to the pool. The house became the space that sat between these outdoor spaces providing a comfortable, contemporary family home.
Visibility through the house to the water was a design requirement with a young family using the pool. The transparency of the house provided reassurance and oversight. With the exposed site came the prospect of overheating, as well as the glare of the sun, and therefore deep eaves protect the interior space, and darker rooms are created for evening retreat space and movie watching.
Bedrooms are all elevated and overlook the pool and the court with views to the sea. As they also overlook the roof of the lower level careful design attention was devoted to the form and finish of this element, which articulates a curvilinear outline in contrast to the square lines of the house.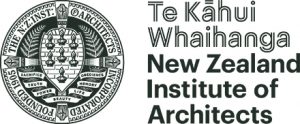 Shortlisted for NZIA award 
Client
Porirua, Wellington