Outline House
outline
noun
a line or set of lines enclosing or indicating the shape of an object in a sketch or diagram.
verb
draw, trace, or define the outer edge or shape of.
Sitting on a beautiful site among sweeping low foothills the house is an embedded object which is drawn out in formed lines. Set among a number of rather obviously large houses that dominate the rural horizon, the house hunkers low in its site, blending with the surrounding landscape colours. It offers a simple exterior wall to the road edge and opens to the bowl-like site to the North which is edged with orchard and garden. A large semi-covered deck provides an additional room for much of the year.
The interior is simple and robust. A raised wedge houses the public function spaces of the house, which then steps down the hill to another for bedrooms and bathrooms which open out to the garden space to the north. Large verandah overhangs prevent overheating in summer by limiting access for direct summer sun to the interior. The house is semi-rural and therefore has a different entry aspect than an urban house. Visitors are expected and known, entering to the door though a series of public and highly visible zones.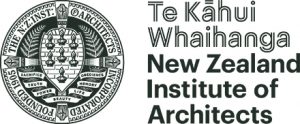 Recipient of NZIA award