Greenstone Gardens
This project reconfigures an existing Housing New Zealand Corporation site in Auckland to facilitate greater safety, and enhance living conditions for the tenants of the site. After generating a variety of possible outcomes for HNZC, we were then asked to further develop one option which reconfigured the existing 71 apartments into 38 apartments.
The conceptual approach towards the accommodation was to increase the number of families on the site, and to foster community development through providing more common space and breaking the buildings down into smaller living clusters served by a common stairwell.
The outdoor space has also been more programmed and has a higher intensity of landscaping to create both private and public areas for outdoor habitation. A driver for the design was the opening of the building to light. Units which had never had direct sunlight to the interiors were joined with those on the opposite facade, and each new dwelling had light from at least two sides.
The materials used were robust and proven. Heavy building materials were coupled with lighter transparent steel screens to provide both mass and lightness. The use of the bricks added warmth through their rich colour, and were low-maintenance, while also having a recognisable integrity. They were used in a contemporary way, being framed in panels by the existing structural concrete floor plates, and augmented by much larger areas of glazing than the existing building had.
The outcome was a building that was looked after by its new tenants, one where the safety of the residents was no longer a constant source of concern, and where children play in the generous green space surrounding the buildings.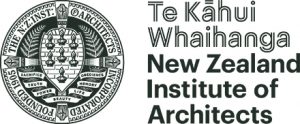 Shortlisted for NZIA award